Limited spaces available for Kindergarten 2023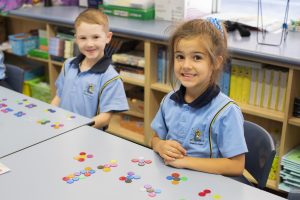 It's not too late! Spaces are still available for Kindergarten next year.
At Our Lady Star of the Sea, the wellbeing of your child is key to everything we do. They will be part of a nurturing school community, where families, students and teachers work together to foster a love of learning that extends beyond the classroom.
We ensure a smooth transition from daycare or home into 'big school' to help your child thrive!
Our Kindy class numbers are small by design, with additional support staff to ensure your child gets the attention they need and deserve to excel both academically and socially.
We are a Cultures of Thinking school, so our teaching encourages children to ask 'why?', connect ideas and think independently. Our facilities have extensive greenspace (4 hectares of grass!) as well as basketball and handball courts, undercover play areas and an interactive playground.
School fees are not as expensive as you may think, with discounts offered to second and third enrolments across the Diocese, with the fourth and subsequent children free! We are committed to supporting families who wish to access Catholic schooling for their children; no student who meets enrolment criteria will be denied purely based on a genuine inability to pay fees and other charges.
We are very proud to be an inclusive community, which means we welcome enrolment applications from children of all backgrounds, including non-Catholic and non-religious backgrounds.
Complete our online enrolment enquiry form today and we will contact you to discuss the enrolment process or organise a tour of the school.
Find out more: