Principal's Message
Welcome to Our Lady Star of the Sea Catholic School at Terrigal. We are a three-stream Catholic school serving the parish of Terrigal and administered by Catholic Schools Broken Bay. Although our community has grown steadily over the years, we remain committed to ensuring a personable and loving community that underpins each family's presence here.
As Principal of the school, I come with some 40+ years' experience in Catholic Education, the last 18 years as a Principal in various communities across Sydney. What remains a constant for me is my passion for ensuring that we provide opportunities to allow our students to be the best they can be, whether that be academically, socially, emotionally and spiritually. I want our students leaving our school in Year 6 equipped to be strong, knowledgeable, resilient and positive contributors to our world.
The site here at Our Lady Star of the Sea, is the envy of many other schools. The extensive grounds, the adventure play equipment, the bushland setting and the welcoming community all contribute to a school that is highly sought after. It is my goal to build on the past achievements of the school and lead the community to even greater levels of success in the future.
We are proud of our commitment to the core business of student learning. We encourage students to take responsibility for their own learning in an environment of support, nurture and partnership between teachers and parents. As we believe each student is different, we work towards establishing and then teaching towards the unique characteristics and talents of each child. Our Collaborative Coaching Program for teachers is not only building on those past successes but striving to improve the learning outcomes for all students to even greater levels.
All of us here at Our Lady Star of the Sea, don't just measure our success in purely academic growth. Learning in our community is characterised by nurturing the growth of the whole child – mind, body and spirit. We strive to instil gospel values for our children and community, under the guidance of Mary Star of the Sea, our school and parish patroness. With the wonderful support of our Parish Priest father Vince Casey, our goal is for every child to reach their potential to be academically successful and be a positive member out in the wider community that reflect our Catholic values.
I warmly welcome both visitors and our own community to our website. Our site serves as a reference for the day to day running of our school but also a celebration of the achievements that occur on a daily basis. More importantly though, our site will give you a snapshot of what it is that makes Our Lady Star of the Sea a special place for your child to learn and grow.
Mr John Barton
Principal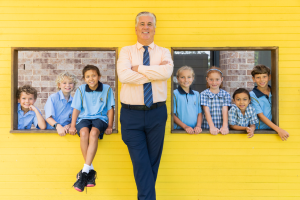 Online Enrolment Enquiry Form