Creative Arts
Creative arts gives children a chance to apply skills, knowledge, techniques and processes and to express themselves creatively. It allows students to enjoy, value and understand the nature of art forms in their own and other cultures.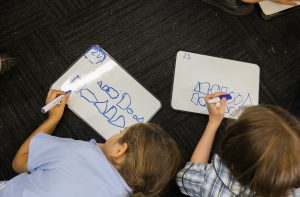 Our students engage in a manner which enables them to:
develop a desire to express and share their creativity
be inspired and motivated to participate in activities that will develop knowledge and understanding, skills, values and attitudes 
make and appreciate the concepts of artists, artworks, the audience and the world.
Our teachers implement a balanced Creative Arts programme, as reflected in the school's Scope and Sequence. They plan a variety of learning activities to develop the students' knowledge, skills and understandings using a range of traditional and contemporary media and technologies.
Our aim is to enable students to discover and develop their creative side, in balance with more traditional academic subjects.